Custom Products
If you can't find exactly what you're looking for, give us a call. We will custom-engineer exactly what you need to your unique specifications.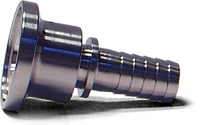 Contract Manufacturing
We specialize in machining complex shapes from raw materials such as high alloy stainless steels, titanium, aluminum, and engineered plastics. We also do custom welded fabrications of stainless steel process components. We meet or exceed the appropriate industry standards — ANSI, ASTM, ASME, DIN, ISO, 3-A, etc. — and all of the material used for our products that contact food or pharmaceutical materials are certified and traceable back to their creation. All incoming metallic material is tested utilizing state-of-the-art PMI x-ray fluorescence technology traceable back to NIST. In-house electropolishing facilities service our products, and our high-energy laser equipment provides marking of metallic parts, including logo graphics and nameplates.
Feel free to contact us with any questions about our capabilities or your needs.